I've decided to call yesterday 'The-Day-That-Must-Not-Be-Named' because, well, it sucked. (For all those who were blissfully unaware of the horrors of yesterday: it was GCSE results day, and that's as much as I'm willing to talk about it haha!)
I'm currently reading…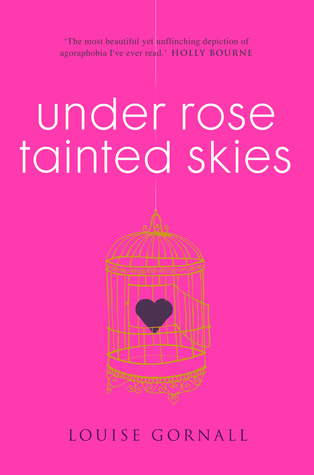 Under-Rose Tainted Skies by Louise Gornall
I'm absolutely loving this novel; it's so good! I'm about fifty pages from the end, and I'm dreading finishing it – I'm enjoying it too much haha! I think it gives a really important insight into what life can be like living with mental health disorders, and hopefully everyone who reads it will learn something from it.
Goodreads Synopsis:
Agoraphobia confines Norah to the house she shares with her mother.
For her, the outside is sky glimpsed through glass, or a gauntlet to run between home and car. But a chance encounter on the doorstep changes everything: Luke, her new neighbour. Norah is determined to be the girl she thinks Luke deserves: a 'normal' girl, her skies unfiltered by the lens of mental illness. Instead, her love and bravery opens a window to unexpected truths …
An important and uplifting debut from a British author, which tackles mental health issues such as agoraphobia and OCD.
I finished reading…
The Odds of Loving Grover Cleveland by Rebekah Crane
I do have a review coming for this one, I swear! I've just had a bit of a busy week, so I haven't had the chance to sit down and work on my review. But it will be up next week, I'm sure! The Odds was such a good novel, and I'm hoping to discover more books by this author!
Goodreads Synopsis:
According to sixteen-year-old Zander Osborne, nowhere is an actual place—and she's just fine there. But her parents insist that she get out of her head—and her home state—and attend Camp Padua, a summer camp for at-risk teens.
Zander does not fit in—or so she thinks. She has only one word for her fellow campers: crazy. In fact, the whole camp population exists somewhere between disaster and diagnosis. There's her cabinmate Cassie, a self-described manic-depressive-bipolar-anorexic. Grover Cleveland (yes, like the president), a cute but confrontational boy who expects to be schizophrenic someday, odds being what they are. And Bek, a charmingly confounding pathological liar.
But amid group "share-apy" sessions and forbidden late-night outings, unlikely friendships form, and as the Michigan summer heats up, the four teens begin to reveal their tragic secrets. Zander finds herself inextricably drawn to Grover's earnest charms, and she begins to wonder if she could be happy. But first she must come completely unraveled to have any hope of putting herself back together again.
I've been up to quite a lot of bookish things this week! I updated my blog logo (which you can find below – tell me what you think in the comments!), and began setting up my Etsy shop!
Yes, the cat is out the bag! If you've read my recent posts, you'll know I've been hinting at something I've been up to, and this is it: I'm opening a shop on Etsy! I'm so excited about it, and I'll be making a post about my soon-to-be up and running shop early next week (which will include the fun bookish items I'll be selling…)
What are you currently reading?
Thanks!
– Emma
Read On!