Hey guys!
Top Ten Tuesday is run by That Artsy Reader Girl, and the idea it to write a list of ten things that match the weekly bookish prompt! This week's Top Ten Tuesday is ten signs you're a book lover, and I found this one fun to do! I managed to miss the last few TTTs, so I'm glad to be back at it this week.
Here are ten signs that you're a book lover:
1. Your camera roll is full of photos of books, books, and more books
When books are so pretty, how could we not take photos of them? My camera roll is full of shots of books I've read and my bookcases, alongside pet photos!
2. You have a TBR pile that has reached terrifying heights
My TBR pile has increased exponentially recently – I own more unread books than read at this point, and whilst I'd like to believe I'll hold off on buying anymore until I finish some, I just know it's not true.
3. You react like this when someone asks what your favourite book is: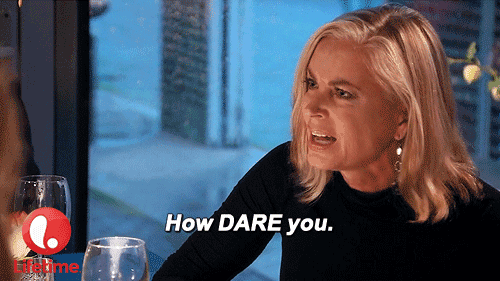 How to talk to a bookworm 101: don't ask us what our favourite book is, because we don't have one – we have lots!
4. You like books more than people
And you're not ashamed to admit it! Books are better than everything (except animals, of course)!
5. You've cancelled plans to stay home and read
Haven't we all done this? Sometimes the outside world is just too much, and curling up with a good book at home is so much better.
6. You spend pretty much all your money on books
And you're not even upset about it. I'm quite happy to throw my money at any books with a pretty cover and an intriguing blurb!
7. You get bookcase envy!
If you're on Bookstagram, I'm sure you'll understand what I mean! There are so many beautiful book nooks out in the world, and I'm always rearranging my bookcases to try and make them even just half as beautiful as the ones I see on Instagram!
8. You've always got a book nearby
You never know when the mood to read will strike you, so you're always prepared no matter the situation.
9. You have insta-buy authors
When one of my favourite authors releases a new book, I'm buying it, no questions asked. Whenever there's a new Cassie Clare book out, you can bet on it being on my shelf as soon as it possibly can be!
10. You read books!
Whether you read paperbacks or hardbacks, audiobooks or ebooks, you're of course a book lover if you read books!
---